Asahi Rubber Chemical, Co., Ltd.
Asahi Placoat (for polymer coating)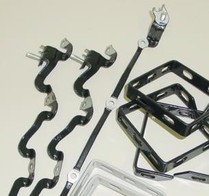 Asahi Placoat (polymer coating) does not use organic and other agents normally used in coating, which makes it gentle to the environment.
Fluidizing coating is a method by which fine polymer powder is put in the coating tank and polymer powder is fluidized using air power.
Then the heated coated matter (metal) is immersed in the coating tank. The heat capacity of the coated matter fuses the polymer powder and forms a membrane.
The major polymer powder materials are thermoplastics, such as polyethylene and polyamide.
Lubrication Coating

About lubrication coating This coating method provides lubrication on the surface of parts and products made using rubber, plastic and metal.
The major solid lubrications are polytetrafluoroethylene (PTFE), molybdenum disulfide (MoS2), and graphite, which are selectively used according to conditions.
Dip Coating
About dip coating Preheated coated matter (metal) is dipped in a paste sol, such as vinyl chloride, which adheres the sol to the surface of the coated matter (metal), and then reheated for gelling.
Recently, acrylic paste sol has been developed with consideration given to environment and applied for diverse purposes.